Save money : our iPhone app and iPad app with push notification are available on the App Store
Find here every day a summary of the best recently free iPhone apps hand-picked for you by AppiDay.co.uk staff. And when we find some good deals, we also mention top apps currently on sale. You can also follow us on twitter or Facebook
iPad apps on sale
Recently and temporary free iPad applications :
Important note : please, be carefull, all the apps mentionned below were free when we wrote this post, their price may have changed depending when you read this so always check the price before downloading from the App Store ! We won't be held responsible for any mistake since … You are the one hitting the button 😉
FX Photo Studio HD : FREE today with AppiDay – Apply and mix over 190 photo effects, including: Lomo, Sketch, Vintage, Art, Grunge, 3-D, B&W, ColorStrokes, Cross processed, Textures and many more. Definitively a must have app !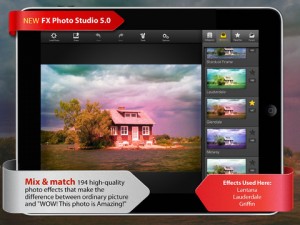 Little Genius : ogether with Genius Gnome your kid will take part in a wonderful adventure towards different tasks. The complexity of the tasks scales with progress. The kid will improve his abilities and skills step by step. , ranked 4,5 stars on the US App Store, for iPhone and iPad
XnSketch : Turn your photos into drawing, cartoons or sketch, for iPhone and iPad
Rock Drum Kit : a drum kits in your hands you can take it everywhere, for iPhone and iPad
Quick Alarm : Simple and stylish alarm clock, for iPhone and iPad
Sumo Paint : Just pick up one of the pre-sets style and start instantly sketching and drawing with unique touch and style + Play around withsymmetry and gravity tools
Animal Origami HD : consists of 16 project such as dog, cat, panda and elephant and so on
Temporary free iPad games :
HDX : Put your thumb on – pull out the turret of its defense and control it to blast all enemies off! Learn to master one of the most precise controls, and free the world from the evil! , for iPhone and iPad
League of Evil 2 : The sequel to the award-winning and critically-acclaimed League of Evil, great platformer !, for iPhone and iPad
Flychaser : your main goal is to help a cute little frog become the world's most agile fly chaser, for iPhone and iPad
Avenging Spirit : crazy platform game that let you swap bodies and collect the powers of those you fight, for iPhone and iPad
and some other games :