Save money : our iPhone app and iPad app with push notification are available on the App Store
Find here every day a summary of the best recently free iPhone apps hand-picked for you by AppiDay.co.uk staff. And when we find some good deals, we also mention top apps currently on sale. You can also follow us on twitter or Facebook
iPad apps on sale
Recently and temporary free iPad applications :
Important note : please, be carefull, all the apps mentionned below were free when we wrote this post, their price may have changed depending when you read this so always check the price before downloading from the App Store ! We won't be held responsible for any mistake since … You are the one hitting the button 😉
Smart Office 2 : View, create, edit and share Microsoft Office documents on your iPhone or iPad. , for iPhone and iPad
ActMonitor : The app shows you system info about your device. It takes almost no space and really easy to use., for iPhone and iPad
Photo Wall Pro : Photo Wall is about creating amazing photo collages and sharing them with family and friends.
FiLMiC Pro : FiLMiC Pro turns your mobile device into a broadcast worthy, High Definition video camera, for iPhone and iPad
Alarm Clock Rio : Alarm Clock Rio turns your iPhone or iPod touch into a beautiful and stylish digital clock with gorgeous themes. , for iPhone and iPad
Temporary free iPad games :
Galaxy on Fire 2 : the award-winning space shooter that set a new standard for sci-fi gaming on the App Store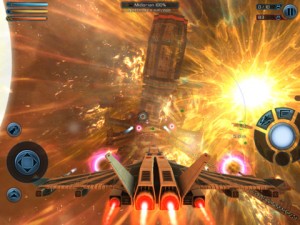 Verticus : You are Verticus™, a superhero equipped with a high tech, heat-resistant jump suit who must prevent the Earth's destruction at the hands of an evil alien race known as The Obliterators! , for iPhone and iPad
U F Oinkers : U F Oinkers is a fun game of reflexes and strategy, where you are on a mission to help our cute little piggy friends realize their dream of flying. Along the way they may eat ice cream, get a bellyache, become infected by zombies, get trapped under falling objects or (oh, no!) fall off the screen , ranked 4,5 stars on the US App Store, for iPhone and iPad
Brave Ghost HD : Your goal is quite simple – save as many baby ghosts from danger as you can across 60 levels and bring them home.
Tournesol : Looks simple? Just try it! Forget about everything for a few hours! , for iPhone and iPad
Galactic Phantasy Prelude : Experience an epic story in which you start your humble life with a stolen spaceship. You would do whatever it takes to stay alive in the world of pirates, be it robbing, trading, smuggling and battling., for iPhone and iPad
PetWorld 3D : Many of your rescues didn't always have it easy in their lives, but luckily they at least found their way to you. After an initial examination to determine current health conditions and to establish any necessary treatment, life in the animal rescue can begin. , for iPhone and iPad
and some other games :