Find here every day a list of the best recently free iPad apps hand-picked for you by AppiDay.co.uk staff. And when we find some good deals, we also mention top apps currently on sale ! Coming from the US ? You'll find your AppiDay site just here at AppiDay.com. You can follow us on twitter or through Facebook
iPad apps on sale
Recently and temporary free iPad applications :
Important note : please, be carefull, all the apps mentionned below were free when we wrote this post, their price may have changed depending when you read this so always check the price before downloading from the App Store ! We won't be held responsible for any mistake since … You are the one hitting the button 😉
ChangeIT : Currency Converter / Forex Portfolio Management
Calculator for iPad HD : Calculator for iPad HD provides you with all the features you expect from a calculator: do all the necessary operations in 2 incredible modes. The Basic mode is here to assist you with your everyday calculations and the Advanced mode will be of a great help in case you need to go scientific.
Mr. Wolf and the ginger Cupcakes : Mr. Wolf and the ginger Cupcakes captures the charm of the traditional children's book 'The little Red Riding Hood but transports the reader in a whimsical world where all sorts of funky characters cohabit in harmony at the sound of dreamy jazz music.
Temporary free iPad games :
"
Swing Away : Escape the zoo! Your family is waiting in the jungle… if you can find your way back. Swing from vines, munch on snacks and get crazy bonuses! It's easy to pick up and impossible to put down. Everyone's going bananas for Swing Away!
, ranked 4,5 stars on the US App Store, for iPhone and iPad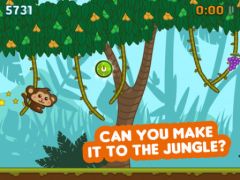 "
Jumpin Puppy : Run, jump, flip, dodge, and blast Silo the Super Puppy through tricky levels loaded with rocket collar boosts, huge ramps, and dangerous obstacles! , ranked 5 stars on the US App Store, for iPhone and iPad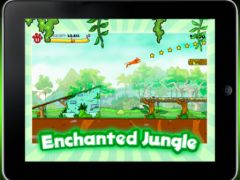 100 Rogues : 100 Rogues blends arcade thrills with engrossing dungeon crawling. It's the very best of both worlds , ranked 4,5 stars on the US App Store, for iPhone and iPad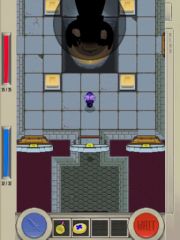 Stupid Zombies : Those stupid zombies are back, and you are humanity's last hope to keep them brainless. One man, one shotgun and lots of stupid zombies., for iPhone and iPad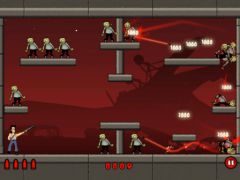 and some other games :